SIGNUMX Catholic Apparel Co. by no means desires to replace other beautiful missions that are promoting God's work. This is why we dedicated this list to the Catholic and Christian apparel companies, Christian outreach programs, blogs and other organizations who also strive to bear witness to Christ. Be sure to check out why we started SIGNUMX here. Below are the ones that are truly close to my heart:
---
APPAREL
0. SIGNUMX Catholic Apparel Co.
Type: Catholic Company
About: We had to start off this list with our own company, shameless plug! Check out our about by navigating here.
Founded: 2017
Website: thesignofthecross.com
---
1. Catholic to the Max
Type: Catholic Company
About:"In 2003, catholictothemax.com was launched with the goal of providing dynamic evangelization tools directly to the faithful public. With a small line of Catholic t-shirts and Catholic Posters, Mark Nelson and his family adopted the words of Pope John Paul the Great as a company mission statement:
"Do not be afraid to go out on the streets and into public places, like the first Apostles who preached Christ and the Good News of salvation in the squares of cities, towns and villages. This is no time to be ashamed of the Gospel. It is the time to preach it from the rooftops."
Today, Catholic to the Max has grown to include Catholic framed art, Catholic gifts, Catholic Prayer Cards, and more. The line is constantly changing, expanding, and adapting to rapidly meet the needs of the New Evangelization."
Founded: 2003
Website: catholictothemax.com
Clothing: 
---
2. MonkRock
Type: Catholic Company
About: "MONKROCK exists to make everyday life a religious experience by empowering people to see the world as their monastery. You don't have to be a monk to live like one. Get into the Habit!"
Founded: 2002
Website: monkrock.com
Clothing: 
---
3. Totally Catholic Tees
Type: Catholic Company
About: "Totally Catholic Tees has been in the t-shirt business for over 20 years. We are family owned and operated and are committed to providing quality Catholic tees for everyone to wear and share in The New Evangelization."
Founded: 1998
Website: totallycatholictees.com
Clothing:
---
4. Paradigm Clothing
Type: Catholic Company
About: "Really I saw an opportunity that the clothes we wear could lead to conversations. What is the point of wearing a Christian shirt to a Christian event? It's kind of like putting on your bowling shirt to go bowling. You know, you've got your golfing shirt to go golfing. So people were throwing on their "Christian shirt" to go "Christianing". Is that what Christian clothing should be? I also felt like it was cheap to think that a shirt could evangelize someone. I wanted the person wearing the shirt to be the evangelizer, and the shirt to be the tool that created that opportunity.
God is calling deeper into the "New Evangelization" and think a big part of that is both becoming more creative in our work, ministry, and everyday life as well as letting the Gospel message more completely saturate all that we are and all that we do. This includes our fashion, our words, our hobbies, our jobs, our food…I MEAN EVERYTHING. "
Founded: 2012
Website: paradigm-clothing.com
Clothing:
---
5. Romantic Catholic
Type: Catholic Company
About: "We are a group of Enthusiastic Believers with the hope of spreading the Gospel of our Lord Jesus Christ as a result of great love to his Holy Catholic Church. "
Founded: 2014*
Website: romanticcatholic.com
Clothing:
---
6. LifeTeen
Type: Catholic Company
About: "As a Eucharist-centered movement within the Roman Catholic Church, Life Teen leads teenagers and their families into a deeper relationship with Jesus Christ and His Church. With the Blessed Virgin Mary as our intercessor and guide, Life Teen seeks to unleash the fullness of the Sacramental power present within the young Church."
Founded: 2014
Website: shop.lifeteen.com
Clothing:
---
7. Lively Faith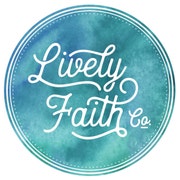 Type: Catholic Company
About: "I specialize in providing uplifting, faith-inspired products in a variety of styles for you and your home! Growing up in a small town in Minnesota, I would look forward to summers spent on the lake and helping my mom as she remodeled rental properties and our lake cabin. I also found myself watching endless hours of Project Runway from which I developed a love for fashion and DIY projects. In high school, a whole new world was opened to me when I took a graphic design class and discovered the wonder of Photoshop! 
My second passion in life is my Catholic faith. When I was fifteen my family starting going to a church camp called "Catholic Familyland" every summer. The name made it sound like a hokey amusement park but what I experienced was a weeklong family retreat in the rolling hills of Ohio with some of the most amazing families I have ever met. I was inspired by meeting so many peers on fire with their love of God. Because of the amazing friends, I made there, my faith grew and became my own. As an added bonus, this is where I met my future husband for the first time!"
Founded: 2016
Website: etsy.com/shop/LivelyFaithCo
Clothing: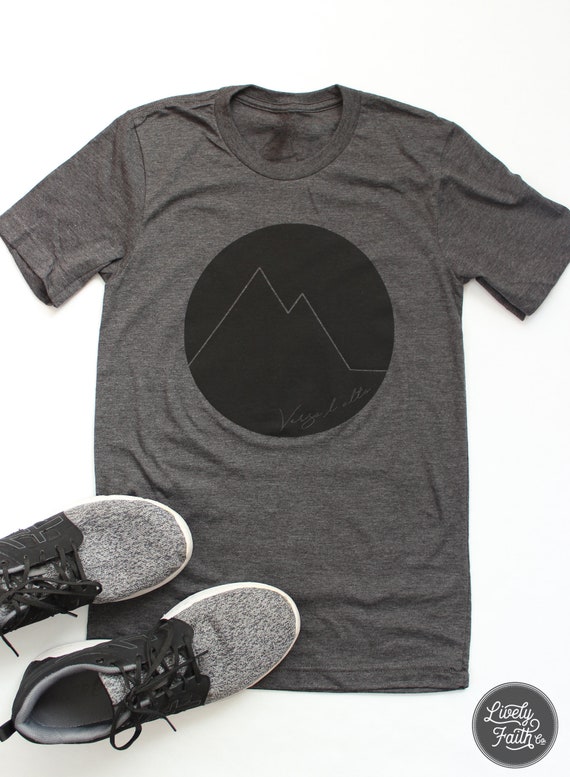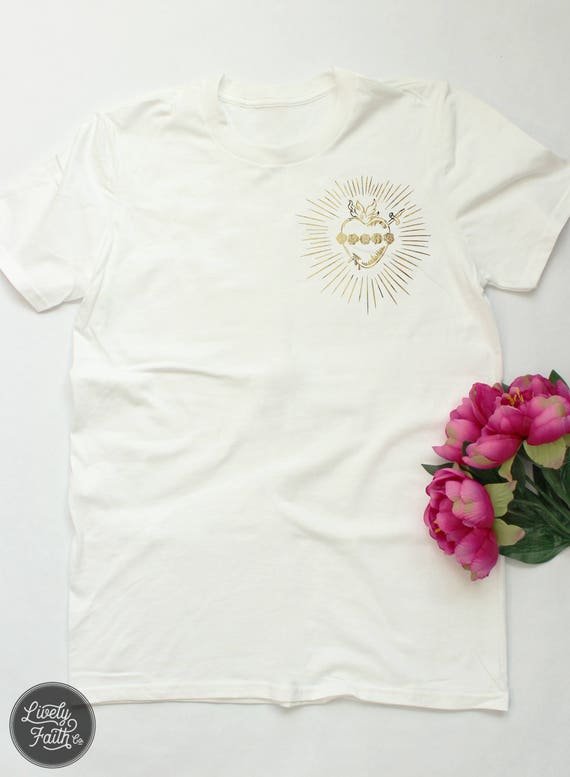 ---
Grateful Apparel
Type: Christian Company
About: "I struggled with drugs and alcohol for many years and was always trying to get clean, but was never able to succeed. I'd take two steps forward only to stumble backwards three or four. I felt empty inside and I knew there was something missing. One day after a five-day drug and alcohol binge, I cried out to God, "God, please help me."…
That's when I had the realization that changed my life. "You can't fill a spiritual void with things of the physical." That's the moment that I surrendered and said, "God, whatever it means to serve you, I want to serve you." I began to see a change in my life. Shortly after the change, I sold my home and opened The 3Sixty House: A transitional house for recovering addicts trying to transition back into society, that houses as many as 54 people at a time.Two years later, it was 2008 and we had helped dozens and dozens of addicts….
I prayed, "God, you have to throw me a bone here." A few months later, I was swimming in my friend's swimming pool in Orlando, FL, and it hit me, "I'm gonna make some cool tees!" I walked out of the pool dripping wet, walked straight into my friends home office, grabbed a napkin and started doodling. Three minutes later, I was staring at the Grateful Flow logo. That was the beginning of a journey that would change the course of my life and many others. Grateful Apparel had been birthed."
Founded: 2008
Website: gratefulapparel.com
Clothing:
---
The Set Movement
Type: Catholic Company
About: "We're a group of people that have had the Lord touch our lives in amazing ways, and we can't help but share that love—that wonder—with you. Our goal is to draw people from all over the world together and celebrate our lives as one body in Christ. We are a community of broken vessels: we're human, we're imperfect, but we serve a perfect Lord. 
Our mission is to help young adults encounter Christ, primarily through art, digital media, community, and mission work. We express our faith through beauty, using the proceeds from our art to fund mission trips and support other apostolates."
Founded: 2018 (?)
Website: thesetmovement.com
Clothing: 
The Pal Campaign
Type: Catholic Company
About: "The Church has always been a steward of great beauty and truth. Continuing in this tradition, PAL (Peace and Love) Campaign seeks to create art that does not sacrifice great beauty or Gospel truth. PAL Campaign's products find their home, and speak their truth in the everyday items that reach all who are hungry and all who are thirsty… the t-shirts, the accessories, the coffee mugs. Through these modern day galleries, it is my hope and prayer that faith and inspiration come alive, that evangelization and longings for Jesus take place."
Founded: 2015 (?)
Website: palcampaign.com
---
The Living Person
Type: Catholic Company
About: "The Living Person was first started by Fr. H.Paul Kim. Fr. Kim loved to run and loved to share his passion for it. The group originally started in 2005 as a running group. Under Fr. Kim's leadership the group continues to run races today (5K, Half-Marathon, Full-Marathon) in Korea where Fr. Kim is assigned. In 2012, Jurell Sison and Craig Sidol expanded Fr. Kim's group beyond running in hopes of developing the whole person. Jurell and Craig partnered with Fr. Kim to create The Living Person Challenge with hopes of inspiring people to become the best version of themselves.
In January 2012, The Living Person held there first event called Dare You to Move, where over 200 people signed up for their own personal challenges. Later that year in March The Living Person partnered with Professor James Menkhaus to run the first Rock CF (Cystic Fybrosis) Half Marathon in Detroit, Michigan. The group has traveled to this race ever since.Since then The Living Person has grown into a bigger team with hopes of bringing life, faith, meaning, and purpose to more and more people."
Clothing: 
---
BLOGS, RADIO, VIDEO
Those Catholic Men
Type: Catholic Blog
About: "One priest. Five seminarians. A worldwide mission to free Catholic men. In 2013, Fr. Brian Doerr, a Vice-Rector of Human Formation, began meeting with a group of seminarians as part of their faith formation at Mount St. Mary's Theological Seminary in Emmitsburg, MD. As the men talked, they realized that as holy as their desires were, they were still men—human and unfree from the base inclinations of the modern world. They realized: If men who are studying for the priesthood are struggling with temptation, addiction, and passivity, then surely other men in the Church—husbands, fathers, and single men—are too?
With a passion for men's formation, the group decided to take pen names and share their discussions in the form of digital articles in order to share wisdom and the formation mindset of seminary with other men. Content was well received, and as readership grew, more men became willing to write and share their own wisdom. The mission of Those Catholic Men is to free Catholic men, which is accomplished through daily distribution of online content and the expansion of the Exodus 90 program.
The organization is led by three full-time staff members including James Baxter, Executive Director, who was one of the founders. The Board of Directors is composed of seven faithful, committed lay men from diverse professional backgrounds. Those Catholic Men hosts more than 20 authors who write about broad topics related to Catholicism and masculinity. In addition, more than 7,000 men have registered in Exodus 90 fraternities and are now experiencing their freedom as sons of God."
Founded: 2013
Website: thosecatholicmen.com
---
The Catholic Talk Show
Type: Catholic Radio Show
About: "The Catholic Talk Show is a brand new show and podcast. Featuring Ryan DellaCrosse, Ryan Scheel, and Fr. Rich Pagano, the show is hilarious, entertaining, and informative!"
Founded: 2018
Website: thecatholictalkshow.com
---
The Catholic Gentlemen
Type: Catholic Blog
About: "More than ever, the Church needs men. Sadly, many Catholic men have believed the lie that being holy isn't manly, and that the faith is boring. They leave religion to women and children and simply tune out. But holiness is for men. There is nothing more difficult, rewarding, or manly than becoming a saint. The spiritual life is full of combat, struggle, hardship, and adventure. It requires blood, sweat, tears, perseverance, and courage. It isn't for the faint of heart.
Catholic men are called to leave mediocrity behind and to strive for greatness. 
The Catholic Gentleman exists to inspire men to holiness—to love God, to serve others, and to deny self. We are a community of Catholic men like you, giving our lives in service to Christ the King by sacrificing for our families, our neighbors, and the good of the Church. Our motto is "Vires per ministerium", which means "Strength through service." It is based on Christ's teaching that, "the greatest among you will be your servant." True greatness is not found in worldly power, but in the call to lay down our lives in love for the good of others."
Founded: 2013
Website: catholicgentleman.net
---
On This Rock – Fr. John Hollowell
Type: Catholic Priest Blog
About: "John Hollowell is currently serving Annunciation Catholic Church in Brazil, IN, and St. Paul's Catholic Church in Greencastle, IN. This blog is full of posts of his thoughts, homilies, and more."
Founded: 2009
Website: on-this-rock.blogspot.com
YouTube: youtube.com/user/JohnHollowel
---
The Catholic Man Show

Type: Radio Show & Blog
About: "The Catholic Man Show started in May of 2016 when Adam Minihan and David Niles realized, after running a Catholic radio station in Tulsa, the need for Catholic radio programs for men. Real, relatable, and often comical, Adam and David have a conversation promoting the lost art of living virtuously. Every episode is broken up into 3 parts.
A Manly Drink – We open, review, and enjoy a manly beverage on air while promoting the virtue of moderation and enjoying the finer things in life that our Lord has given to us.
A Manly Gear – We highlight a specific gear that every man should own and how it applies to living a Catholic life in this world.
A Manly Topic – Deemed (by us) as "the manliest conversation you will ever hear." We talk about different topics related to the Catholic man."
Website: thecatholicmanshow.com
YouTube: TheCatholicManShow
---
HELP & OUTREACH
Greater Freedom Blog
Type: Catholic Spiritual Help & Blog
About: "My name is Annemarie Penick and I've created this blog to share what I've learned from my aunt and spiritual mentor, Sr. Betty Igo,  so as to help others experience greater freedom.  I have been working on spiritual and emotional growth with my aunt, Sr. Betty Igo, for over 25 years. Recently, I started doing Catholic/Christian Life Coaching to help those who would like to grow emotionally and spiritually.
I have a Master's in Communication and taught Public Speaking and other communication classes at the University of San Diego and San Diego State University for many years.  I've been mentored by many spiritual directors and have extensive training in Unbound, Generational Healing, Life in the Spirit, Charismatic Movement, and Inner Healing Prayer. As a Life Coach, I mentor those seeking emotional and spiritual growth."
Founded: 2017
Website: greaterfreedom.blog
---
Catholics in Recovery

Type: Catholic Outreach
About: "Catholic in Recovery is a nonprofit organization that seeks to serve those suffering from addictions and unhealthy attachments (including alcoholism, drug addiction, pornography addiction, sex and relationship addiction, compulsive overeating and food addictions, gambling addiction, codependency and the impact on family, and general fear, control, and anxiety).
The organization was started by the passion of Scott Weeman as he found healing and new life through the help of twelve step recovery and the sacramental love and mercy provided by the Catholic Church. We support parishes and communities with group resources that draw people closer to these two powerful sources of grace. It is the aim of Catholic in Recovery to share the Good News that God can bring about healing and recovery, even in the most hopeless of cases."
Founded: 2016
Website: catholicinrecovery.com
---
Integrity Restored
Type: Catholic Outreach
About: "Our mission at Integrity Restored is to help restore the integrity of individuals, spouses, and families that have been affected by pornography and pornography addiction. Integrity Restored provides education, training, encouragement, and resources to break free from pornography, heal relationships, and to assist parents in preventing and responding to pornography exposure which is so devastating in the lives of our children.
We are also a resource that trains and helps clergy in assisting families at the parish level, so that the domestic church truly becomes what it is, the human space in which we encounter Christ."
Founded: 2011
Website: integrityrestored.com
---
ORGANIZATIONS
Troops of Saint George
Type: Catholic Organization
About: "The Troops of Saint George (TSG) is a fraternal Catholic nonprofit apostolate for priests, men, and young men looking for a life of adventure coupled with virtue. Initially founded in 2013 by Catholic author and professor Dr. Taylor Marshall, we have become a collection of troops that do the following:
Experience reverent and beautiful Masses on mountaintop vistas
Pray the Rosary with other men around fire pits in the freezing cold
Catch a Fish Friday meal by fly fishing for trout
Confession with our priests while kneeling on moss in the woods
Teach our sons archery, rockclimbing, marksmanship, fishing, survival skills…and Catholic virtues
Foster a love for the priesthood and a reverence for the sacrament of Matrimony
Support our local parish, our priests, our bishops, and community by being available for works of mercy and service"
Founded: 2013
Website: troopsofsaintgeorge.org
---
Traditional Sermons
Type: Catholic Homilies
About: "The mission of traditionalsermons.com is to amplify God's word and teaching in union with the Magisterium of the one holy apostolic Catholic Church embracing the richness of tradition. In uniting with the Way, the Truth, and the Life, we seek to live in perfect uniformity with God's will for the salvation of souls for His greater glory. TraditionalSermons.com is operated by laymen who seek to provide sermons beneficial to the spiritual growth of the souls of its visitors."
Founded: 2010
Website: traditionalsermons
---
If you would like your own company added to the list, please contact us and we'll make sure you get on.

Last Updated: 02/26/2019